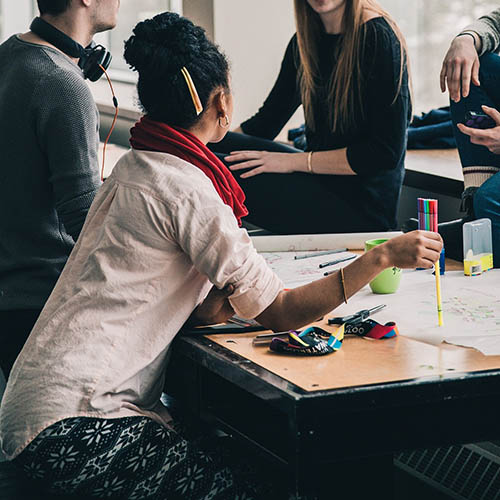 What is the Social Contract Summer Fellowship?
The Social Contract Summer Fellowship is a paid 8-week immersive personal and professional development program focused on social impact consulting.
It provides unique exposure to meaningful and hands-on work in issue areas including health and human services, reducing community violence, education, workforce development, and more. Fellows have the chance to explore the approaches used to tackle complex social issues, as respected colleagues, changemakers, and people.
The Fellowship provides an environment to learn, grow, and experiment under the mentorship of peers, whether you are a recent college graduate, currently in grad school, or even an early to mid-career professional looking for a change.
What Should Fellows Expect?
Social Contract invests in the personal and professional development of Fellows, fostering both confidence and unique expertise that leaves them ready to take on life in the workforce.
Fellows learn about themselves, the social change process, and how to approach complex issues.

Fellows participate in meaningful project work, mentorship, and guided reflection on their own skills, and strengths.
Fellows sharpen their skills around design thinking and systems change, understanding various sectors involved in social impact work, project management, assessment and evaluation.
In their own words: 2022 Fellows
Frequently Asked Questions
1. Do you have to be in Delaware to participate?
The Fellowship is held virtually, meaning you do not have to be in Delaware to participate! Our Fellowship leaders are located in the Delaware area, so we encourage you to apply if you will be able to engage Monday - Friday around 9:00am to 5:00pm EST.
2. How long is the Fellowship?
The Fellowship is eight weeks long, beginning with an onboarding period to get accustomed to Social Contract, the team, and your project(s), continuing with hands-on project work, and concluding with a performance development check-point.
3. Do you need to have prior experience with social justice work?
You do not need a specific number of years of experience to participate in the Fellowship. During our 8 weeks, we will cover various social issues and the strategies and frameworks used to help address social issues. To be a Business Development or Operations Fellow, we do look for prior experience with certain systems and business operations. Above all, we look for Fellows with a growth mindset who are willing to learn, regardless of years of experience.
4. What does a typical week look like?
Fellows will work 10-15 hours per week. The Fellowship will vary depending on the week and project timeline. For example, the first couple of weeks will include more intensive onboarding, then Fellows transition to more hours on project work. Typically, a week's schedule will be a blend of professional development learning sessions and hands-on project work.
5. Are Fellows paid?
The Fellowship is a paid, part-time position. Salary ranges between $18-25 per hour.
6. What is the application process?
The application period opens April 3, 2023 and closes on April 17, 2023. You can apply using the links on Social Contract's website. Selected applicants will go through a virtual interview process during the first week of May. Five Fellows will then be selected, and everyone will be notified of Social Contract's final decision regarding their application. Fellows begin their first day with Social Contract on June 1st!
7. What technology do I need in order to participate?
Fellowship engagements will be hosted virtually. All Fellows will need access to a computer and WiFi to participate.