Building on lessons learned during the early years of the covid-19 pandemic, a multi-sector collaboration delivered for Delaware families.
When the nationwide baby formula shortage was uncovered in February 2022, several entities in Delaware came together to meet the needs of our youngest residents. The result of this innovative, cross-sector partnership is 44,000 cans of Care A2 Plus infant formula available to Delaware residents across all three counties.
Over the course of nearly a year, Donate Delaware led the charge, going to the other side of the planet to find FDA-approved baby formula that could be shipped to Delaware. Social Contract provided critical assistance and leadership to Donate Delaware with sourcing the formula and worked closely with the Food and Drug Administration and United States Customs and Border Patrol to fast track delivery.
Founded in response to the critical needs of the early days of the covid-19 pandemic, Donate Delaware has significant experience being creative in finding resources to meet the needs of the First State. The organization also recognizes the strength of collaboration and sharing both resources and responsibilities with like minded organizations and individuals all working towards the same goal.
During the live-streamed press conference, many of the organizations involved in this effort spoke about the importance of collaboration, and the impact this will have on Delaware's most vulnerable communities. "[Social Contract] has been incredible working with us on this process," said Dave Tiberi, President of Donate Delaware. "We're truly blessed to… provide [baby formula] to our families in need."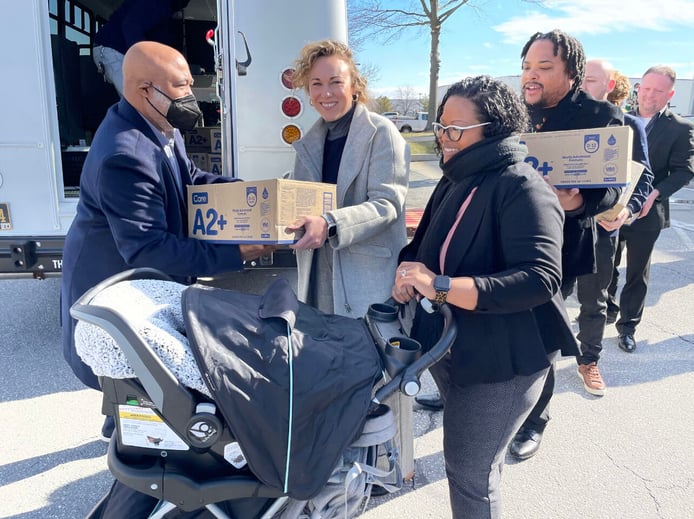 Since its inception in 2020 Donate Delaware has shipped over 3 million boxes of emergency supplies and directly benefited countless lives. Social Contract provided strategic guidance, advisory and capacity support for the organization over the last two years as it has grown into a robust, high-functioning nonprofit enterprise.
"We are proud to have joined with Gensco Pharmaceuticals, Care A2 Plus, the offices of Governor John Carney and Lieutenant Governor Bethany Hall-Long, Donate Delaware, Food Bank of Delaware, Bank of America, and many others to meet this critical need," added Drew Fennell, Executive Vice President of Social Contract. "This was an incredible effort that spanned multiple sectors - and multiple continents."
For additional details about the available formula, click here.