Social Contract Earns Spot on Prestigious Inc. 5000 List
The award recognizes the company's significant year-over-year growth.
Wilmington, DE - September 7, 2023 Social Contract, a Delaware-based social impact consulting firm, is proud to announce its inclusion in the Inc. 5000 list of the fastest growing companies in the United States. This remarkable achievement underscores the company's dedication to driving social impact while maintaining exceptional growth as a business.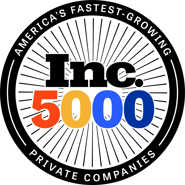 The Inc. 5000 is a definitive ranking of America's most successful and dynamic independent businesses. This recognition is a testament to Social Contract's commitment to innovation and sustainable growth. Over the past six years, Social Contract has successfully partnered with a diverse portfolio of clients, including state and local government agencies, nonprofit organizations, foundations, and corporate entities, providing them with innovative strategies, comprehensive services and measurable solutions to address pressing and complex social and environmental challenges.
"We are honored to be recognized on the Inc. 5000, which validates our team's hard work, dedication to our clients, and passion for creating positive change," said Ron Berry, Managing Partner of Social Contract. "One of the goals in starting this company was to systematically harness the power of business for good, and this achievement only strengthens our resolve to continue driving impactful solutions for our clients and the communities they serve."
The Inc.  5000 ranks companies by overall revenue growth over a three-year period. Since its founding in 2017, Social Contract has expanded rapidly, from a small staff focused on clients in Delaware, to a robust group of over 25 full and part time employees, working on projects in Pennsylvania, Vermont, Massachusetts, Indiana, and elsewhere. By aligning business objectives with social responsibility and a strong mission, Social Contract has been able to drive both sustainable growth and positive change, a combination that has propelled its rapid expansion and subsequent placement on the Inc. 5000 list.
"We founded Social Contract in response to the need for collaborative solutions to the big social challenges facing our community," noted Meghan Wallace, Managing Partner and Co-Founder of Social Contract. "As a socially conscious consulting firm, Social Contract prides itself on a multidisciplinary approach that combines business acumen with a deep understanding of collective impact and numerous social issues. This approach has enabled our company to create strategies that generate measurable impact while also delivering results year over year."
Inclusion on the Inc. 5000 list represents a significant milestone for Social Contract, highlighting its exceptional growth trajectory and leadership. The company remains committed to expanding its reach, deepening its impact and continuing to help clients navigate an evolving landscape of complex social challenges. To learn more about Social Contract, visit socialcontract.org.
About Social Contract
Social Contract, LLC is a women and minority-owned social and collective impact consulting firm dedicated to helping communities solve complex social problems. Our work is grounded in the collective impact model and we partner with government agencies, nonprofits, impact-driven businesses, and foundations to establish cross-sector partnerships and strengthen organizations as they address pressing social challenges. Since our founding six years ago, our firm has grown to 28 employees. Our consulting team has subject matter expertise in the fields of community violence, community engagement, education, trauma-informed services, workforce development, and environmental sustainability. We are a diverse group of project managers, researchers, evaluators, facilitators, policy experts, and program designers dedicated to elevating and supporting lasting social change. Social Contract is headquartered in Wilmington, Delaware with an additional office in Philadelphia, Pennsylvania.
About INC. 5000
Inc. Business Media is the leading multimedia brand for entrepreneurs. Through its journalism, Inc. aims to inform, educate, and elevate the profile of our community: the risk-takers, the innovators, and the ultra-driven go-getters who are creating our future. Inc.'s award-winning work reaches over 50 million people across various channels, including events, print, digital, video, podcasts, newsletters, and social media. Its proprietary Inc. 5000 list, produced yearly since 1982, analyzes company data to rank the fastest-growing privately held businesses in the United States. The recognition that comes with inclusion on this and other prestigious Inc. lists, such as Female Founders and Power Partners, allows the founders of top businesses to engage with an exclusive community of their peers, and credibility that helps them drive sales and recruit talent. For more information, visit www.inc.com.